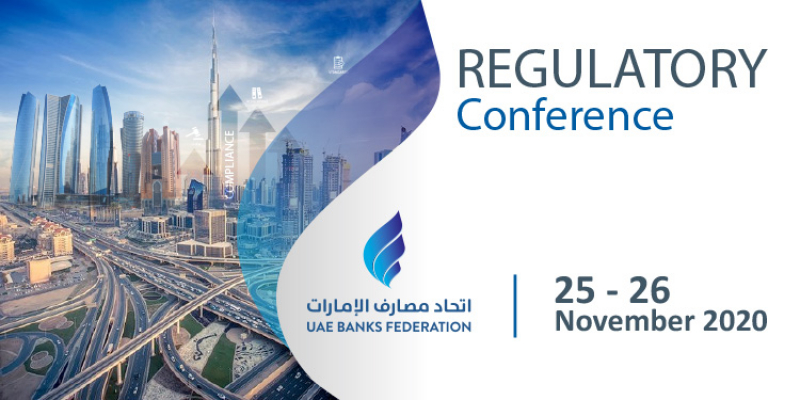 UAE Banks Federation holds the Regulatory Conference on the 25th and 26th of November
In light of the challenges facing banking and financial institutions in the areas of financial crime and compliance, the UAE Banks Federation & Al-Iktissad Wal-Aamal Company are organizing the "Regulatory Conference" Webinar on the 25th and 26th of November 2020, to highlight efforts made by Arab banks in general and UAE banks in particular, in hopes to reduce the corresponding risks and repercussions.
This event will bring together an elite group of experts in compliance, financial crime and digital transformation.
"Regulatory Conference" Webinar will focus on efforts made by the UAE Banks Federation and the financial sector, under the guidance and continuous support of the Central Bank, to strengthen the fight against financial crimes. It will also stress on key recommendations & best practices in risk assessment, and discuss the action plans needed to meet the challenges arising from the widespread adoption of digital platforms.
In addition, the webinar will review consumer protection regulations and its implications on banks, highlighting the best practices adopted internationally, in order to adhere to the standards set by the UAE Central Bank in this context.
In a statement, the Director General of the UAE Banks Federation, Mr. Jamal Saleh, indicated the importance of organizing this webinar, especially with the rapid developments happening in the banking sector and the increased reliance on digital platforms amid the wide spread COVID-19 pandemic. He also praised the efforts made by UAE banks and the measures they have taken to protect customers and adhere to the standards set by the Central Bank.
On the other hand, Mrs. Hanan Mansour, Vice Chairperson of the Compliance Committee at the UAE Banks Federation and Head of Regulatory Compliance at First Abu Dhabi Bank, stressed on the importance of uniting efforts between the compliance departments in UAE banks to face common challenges and keep up with local and international standards. She added that the UAE has come a long way in terms of combating financial crimes, whether at the level of legislation, new procedures, or initiatives that keep pace with all developments on the compliance front.
Mrs. Mansour invited the heads of compliance departments and professionals in all banks and financial institutions to participate in this conference, which provides an effective platform to discuss the challenges they all face and review appropriate solutions to these challenges