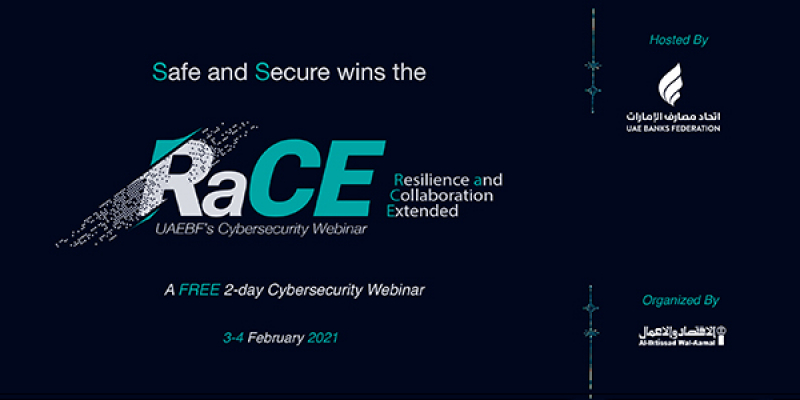 The UAE Banks Federation Organizes RaCE Cybersecurity Webinar on the 3rd and 4th of February 2021
The UAE Banks Federation, in cooperation with Al-Iktissad Wal-Aamal Co., is organizing RaCE Cybersecurity webinar on the 3rd and 4th of February 2021.
RaCE will host global and regional cybersecurity, Information Technology, and Risk management experts, including the Chief Information Security Officer at the Federal Reserve in New York, David Cass, and a number of chief information security officers representing UAE and international banks.
RaCE webinar comes following the dramatic increase in cyber-attacks targeting banks and individuals, especially after the widespread Corona pandemic and the adoption of remote working strategies, in addition to customers' tendencies to process their banking transactions online, leaving them a main target for cybercriminals.
In this context, RaCE will shed light on cybersecurity trends and best practices in risk assessment and customer data protection; it will also discuss banks' readiness and collaboration to prevent potential cyber pandemics.
In his statement, UAEBF's Director General, Mr. Jamal Saleh, indicated that the Federation is keen on organizing such webinars to keep banking professionals up-to-date on the latest cyber trends and the corresponding risks on the financial industry. Mr. Saleh stressed on the importance of spreading awareness in terms of taking the necessary measures to protect customers' data, and the need to keep customers well informed about potential risks when processing their transactions online. He called on heads of information technology and risk departments in banks and financial institutions to participate in this webinar, which constitutes a platform to discuss all the challenges they face, and present appropriate solutions. Mr. Jamal thanked the webinars sponsors: Darktrace, FireEye, AttivoNetworks, Onespan, & Crowdstrike for their support.