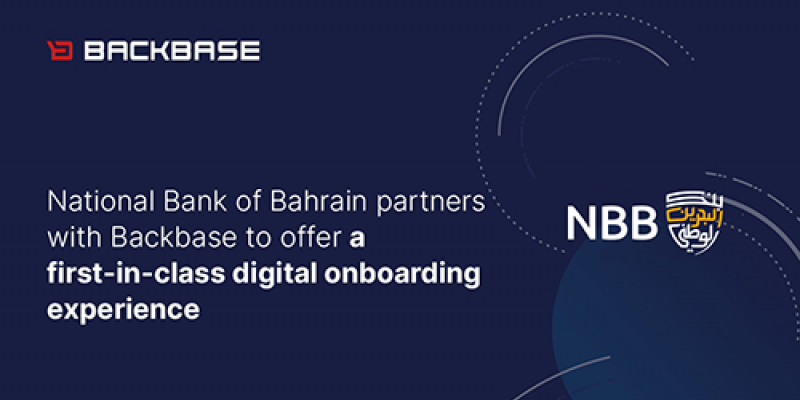 National Bank of Bahrain Partners with Backbase to Launch its Digital Banking Platform
National Bank of Bahrain (NBB) announced its partnership with banking tech provider Backbase to launch its new digital banking platform. According to NBB, the partnership has enabled the bank to expand its retail banking offering by providing an upgraded mobile experience to its customers and improving operational efficiency – all while enhancing its ability to "innovate" at speed and scale.
"NBB's new digital banking experience taps Backbase's Engagement Banking platform – a comprehensive suite of pre-built technology solutions allowing institutions to own and orchestrate every step of the customer journey – to create a new, modern mobile and online banking journey for customers with personalisation at the centre. Key features NBB's customers now enjoy include rapid, seamless onboarding – in less than 6 minutes – as well as instantaneous access to a full suite of banking services, such as account management, opening new lines of credit and debit card origination and others."
Speaking about the collaboration, Subah Al Zayani, Chief Executive of Retail Banking at National Bank of Bahrain, stated:"Partnering with Backbase to accelerate our digital transformation and launch our new app has helped us more readily address our clients' needs throughout various stages of their customer journey, guaranteeing excellent service and a sophisticated experience."
Matthijs Eijpe, Regional Vice President EMEA at Backbase, stated:"The launch of their new app has already demonstrated the tangible benefits of our partnership to the end user; however, as NBB continues to grow and enhance their digital capabilities, we are providing a scalable model that matches their customers' shifting demands both in a cost- and time-effective way, enabling NBB to enhance its infrastructure and processes to maintain its position as industry leader."
NBB added Backbase's Engagement Banking Platform allows the bank to rapidly deploy solutions across all their lines of business, enabling faster innovation and allowing the bank to bring new products and services to market quickly and efficiently.