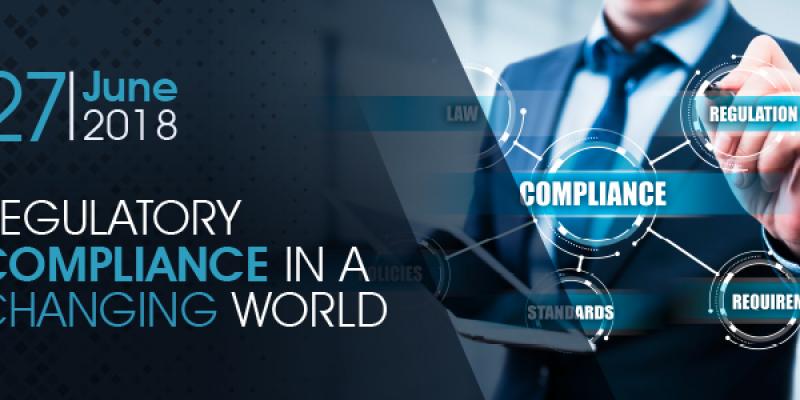 The "Regulatory Compliance in a Changing World" Forum will be held on June 27th 2018 at Rotana Yas Island in Abu Dhabi
Predominantly over the past 10 years, regulation and compliance have remained key topics across the financial services industry. In 2016 alone, supplement to existing regulations, an average of 200 regulations were introduced/amended globally at rapid velocity, equivalent to circa 70,000 changes per year. This has resulted in a paradigm shift, whereby banks/financial institutions were driven to recalibrate their risk appetite and policy/control framework. Increased regulatory burden has been a natural consequence, in terms of increase in the cost of compliance vis-à-vis upsurge in dedicated Compliance staff by 10 to 15%, as well as incremental systems implementation/automation to meet the challenging regulatory requirements bringing relatively sizeable expenditures incurred by small and medium sized banks.
Additionally, the global as well as regional risk landscape is also rapidly changing due to technological disruption i.e. digitalization in the form of Blockchain, crypto-currencies etc. accompanied by increasing product complexity. Compliance will need to account for growing cross border requirements of a more globalized world. Fines and censures are severe in terms of magnitude and the associated reputational damage is even more accentuated.
Financial institutions yielding $10 billion or more in revenue increased their average spend on KYC-related procedures to $150 million in 2017, up from $142 million in 2016. Meanwhile, the number of KYC Compliance professionals at these institutions grew to an average of 307 in 2017, up from 68 in 2016.
Against this backdrop, the UAE continues to assert its role. In 2014, it implemented the Anti-Money Laundering & Criminalization Law, amending it further in 2016. In February 2017, the Central Bank of the UAE introduced new Capital Adequacy requirements for transitional implementation until 2019. Other regulatory reform initiatives on the agenda included requirements for leverage ratio, new counterparty credit risk requirements and over-the-counter (OTC) derivatives reform, all of which were aimed at providing additional soundness and credibility to the local banking sector. Banks were also recently required to undergo an independent macroeconomic stress test as well as an independent assessment of their AML & Sanctions Compliance Framework [AML assessment]; both initiatives rolled out by the Central Bank.
The "Regulatory Compliance in a Changing World" Forum will be held on June 27th 2018 at Rotana Yas Island in Abu Dhabi and will discuss key regulatory concerns, requirements for banks to have proper conduct business framework in place to manage conduct risks being the root cause of many of the failures noted in the banking section, dealing with financial crimes, KYC and AML compliance as well as how technology can support regulatory implementation. The forum is hosted by the UAE Banks Federation, the professional representative body comprising of 49 member banks operating in the UAE and is organized by Al-Iktissad-Wal-Aamal Co.
The Agenda of the forum will tackle aligning local regulatory frameworks with global implementation, living in the age of de-risking, FATF's role in preventing financial crimes, KYC reliance in the era of Blockchain and the effect of technological regimes such as Regtech, Fintech and AI on the overall compliance implementation from the functional standpoint.